Hi, How are you? With Covid putting us back into lockdown, we thought we would update you on our operating hours and deliveries, but also spoil you with a few good specials in September and October. Pacific Ears Australia is an essential company and will remain open, however, with adjusted operating hours. Please read below for more details and to check out our specials.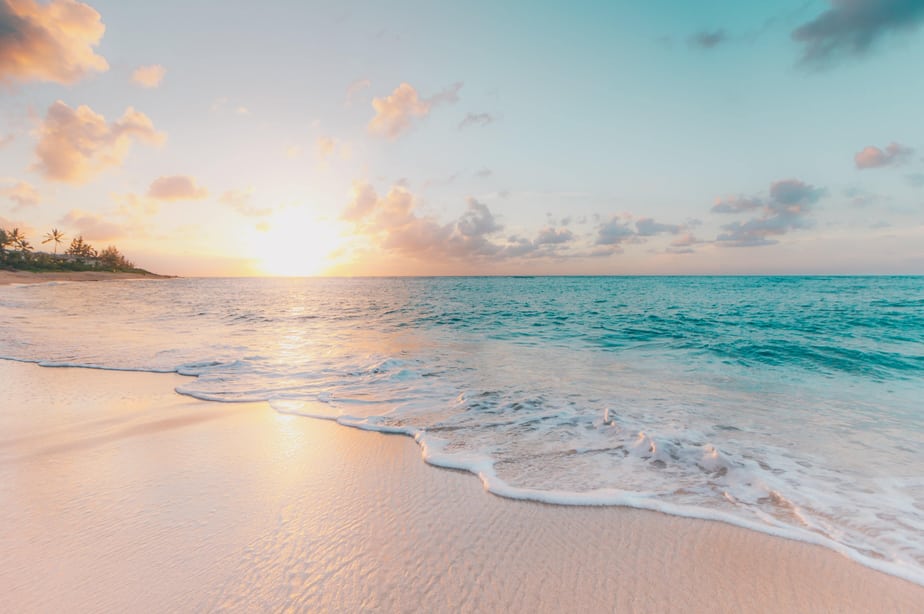 10% discount on Swimfit Earplugs
Yes! Spring and Summer are on their way, so if you have ears that need protection from water you may be interested in this deal. During September and October we are offering you 10% discount on our Swimfit earplugs. These are full shell moulds made of a medical grade floatable silicone. Not just great for swimming and water sport, but also for showering if your ears can't get wet.
Use the code SWIM10 in our online shop for your 10% discount*.
*Not to be used in combination with other discounts.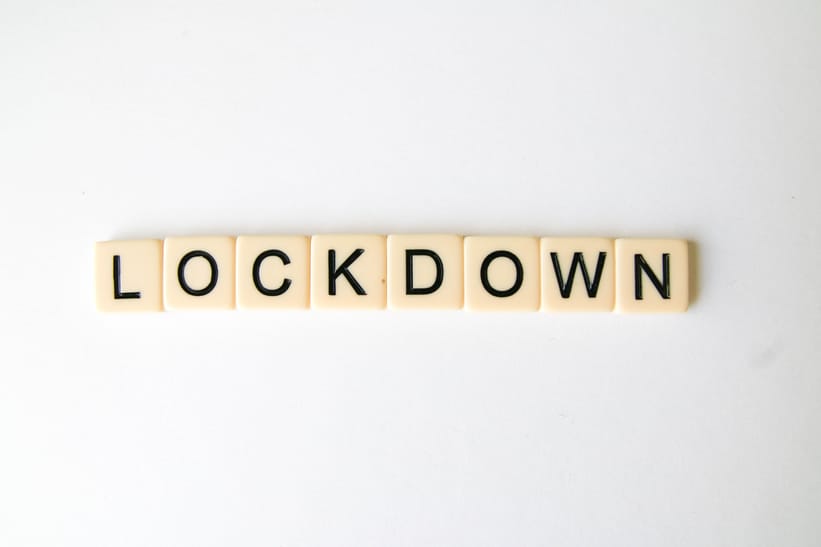 LOCKDOWNS AND IMPRESSION TAKING
As you may know, the price of impression taking is included in your purchase. We will arrange an appointment for you at your nearest fitting point. During lockdown, some clinics may have fewer spots available due to adjusted operating hours. We will do our best to get your impressions made as soon as possible, but please be patient if this takes a little longer than desired.
If we already have your impressions on file, you will receive a discount code from us to use in our online shop. We keep your impressions on file digitally for three years, but please check with us if they are fit for the product you wish to purchase next.
We are doing our utmost to have your custom-made product finished and sent to you within our usual turn around times. During lockdown, however, delivery may take longer due to courier services being busier than usual.
Please contact us if you have any queries.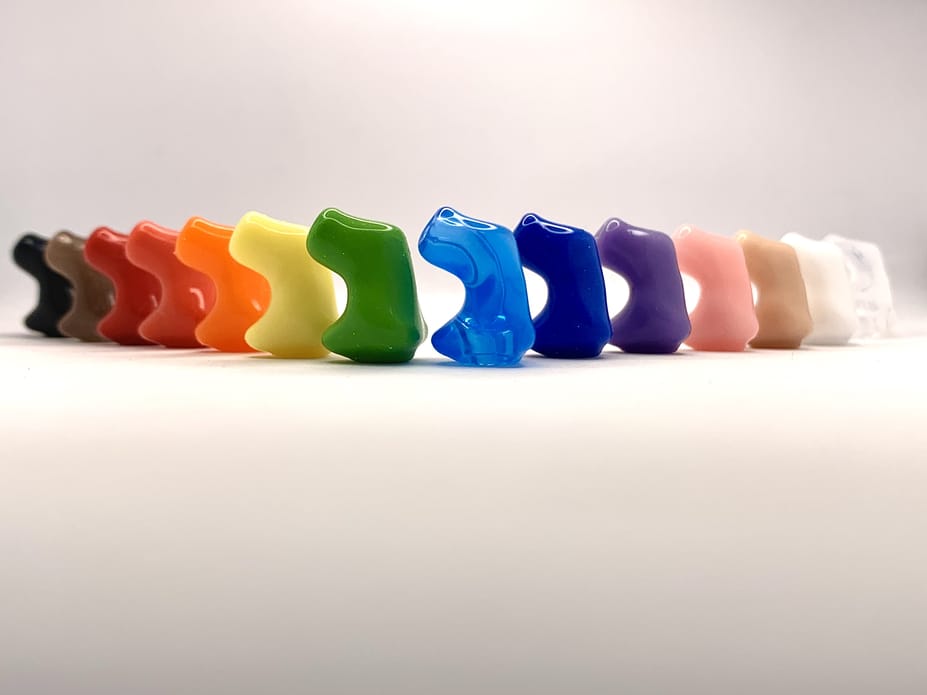 COLOURS FREE OF CHARGE!
Want a fun way of protecting your ears? Want to show your workmates and boss that you are protecting your ears? Why not have your hearing protection or in-ear monitors made in a cool, outstanding colour.
In September and October, we are offering you our colour range free of charge! You can choose a single colour or a combination of 2 colours. A saving of max $40!
Use the code FREECOLOUR in our online shop and put in the remark field which colour(s) you would like.
See photo for Pro series and custom sleeves colour options. For in-ear monitor colours, please contact us.
*only one code can be used in our online shop. Please contact us if we already have your impressions on file.
INSTRUCTIONAL VIDEOS ON YOUTUBE
How to insert and remove Pro earplugs
If you struggle with inserting your moulds, if you want to know how to clean the moulds or if you need to change over the filters and more, please click on the link below to go to YouTube and to watch these instructional videos.
PRO INTERCHANGEABLE FILTERS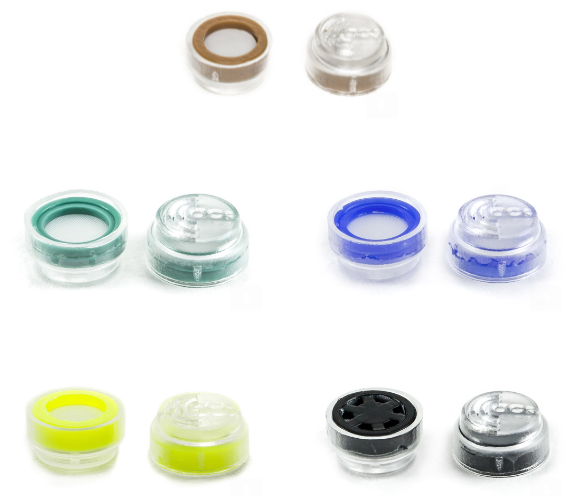 Did you know that our ACS Pro series filters are interchangeable? If you are a gig-goer but do some shooting on the weekend, you can order a set of Pro17 and a set of Pro Impulse filters for shooting. Or if you are a dentist during the week and drummer in a loud band in your spare time, the Pro15 with a set of Pro26 filters will be perfect for you. Some want to use the same set of moulds but want to use another level of noise reduction on different occasions. Because the filters in the Pro series are incorporated in the moulds but not glued in, they are easy to change over and have that different noise reduction.
The Pro10/15/17/20/26 and the Impulse are all interchangeable. You can order a set of extra filters online. Make sure the amount is 2 if you wish to order a pair, as they are sold as single items.
You can find an instructional video of how to change the filters on our YouTube channel. Click on the link here. The filters can be bought in our online shop.
NEW PRODUCT!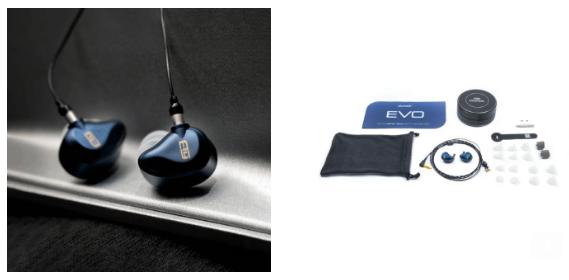 Introducing the EVO – Multi-Driver Earphone
The first multi-driver earphone from Etymotic. The Etymotic Evo Earphone is the most accurate multi driver earphone on the market, the perfect earphone for audiophiles. For more details, please visit our website or click on the link here.
WE'RE HERE FOR YOU!
If you have any questions or if you would like more information about our product range, please contact our friendly team on [email protected].
You will receive a fast and detailed response.